The Business Support Centres in the Northwest and Limpopo / Mmpumalanga areas support the endeavours and processes of the Incubator to achieve its mandate for local SMME development. The Centre operates as an incubation centre where local black owned SMMEs are assisted with and taken through practical training imperatives amongst others: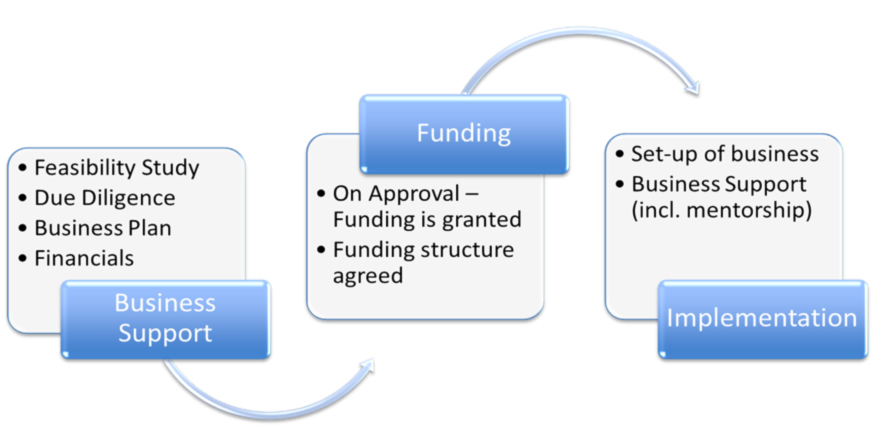 •    Enterprise identification
•    Pre-feasibility
•    Project Development Plans
•    Feasibility Studies / Business Plans
•    Marketing Strategies / Plans
•    Implementation
•    Due Diligence Reports
•    Business Support Program
•    Business Mentorship Program
•    Trade Skills Program
•    Business Management Training Programs
Elaborating on the services rendered by the Centers:
Our Incubation centers are concentrating on the development of the entrepreneurs and to accelerate the development, sustainability and ultimate financial and operational independency of micro, small and large enterprises. It is well-known and proven that 8 out of 10 newly established enterprises close down within their first year of operation and that 90% of the existing SMM Enterprises are not able to sustain itself and cannot afford professional services to assist and support them to become sustainable. The services provided by our Incubation (Support) Centers are therefore in huge demand and critical to the sustainable existence of the Enterprises.

To address the failure rate of SMME's and to provide for the demand of our Incubation Program it were developed into two modules that will best contribute to sustainable development, skills transfer, trade competency, business management skills and economic development. The program structure is as follow:


➢    Module One - Enterprise Development / New Venture Creation / Turnaround Strategies / Ring-Fence Opportunities / Vendor (contractual) opportunities and Supplier Development:
In this module the concentration is towards the:

Module 1 – Process Flow Table per subject: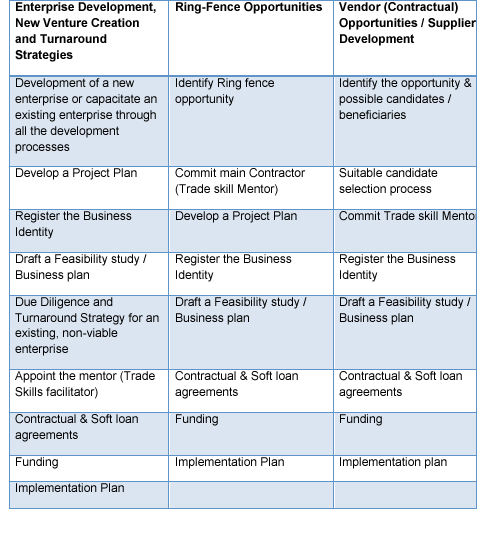 Module Two – Mentorship in Trade & Business Management:
In this module the concentration is towards skills development and in the segments of Transfer of Trade skills and Business Management. The Mentorship module embedded inour Incubation Program is exceeding the limitations to only Technical skills transfer.
Our module concentrates on the involvement; assistance; partnership and commitment from the already and well established and influential businesses to transfer the necessary trade skills and on the job management principals and requirements applicable for that trade.
In addition to the direct mentorship moduleour Incubator Program also consists of a Practical Business Management skills tranfer program. In the Practical Business Management skills module we educate the entrepreneurs on how to manage their business adequately, effectively, professionally and to be committed towards re-investing back into their businesses to support financial growth and creating working capital.To gain the full impact of mentoring the financial, payroll, compliance requirements, etc. activities of each enterprise is done at the Incubation (Support) Centre by skilled Business Development Officers.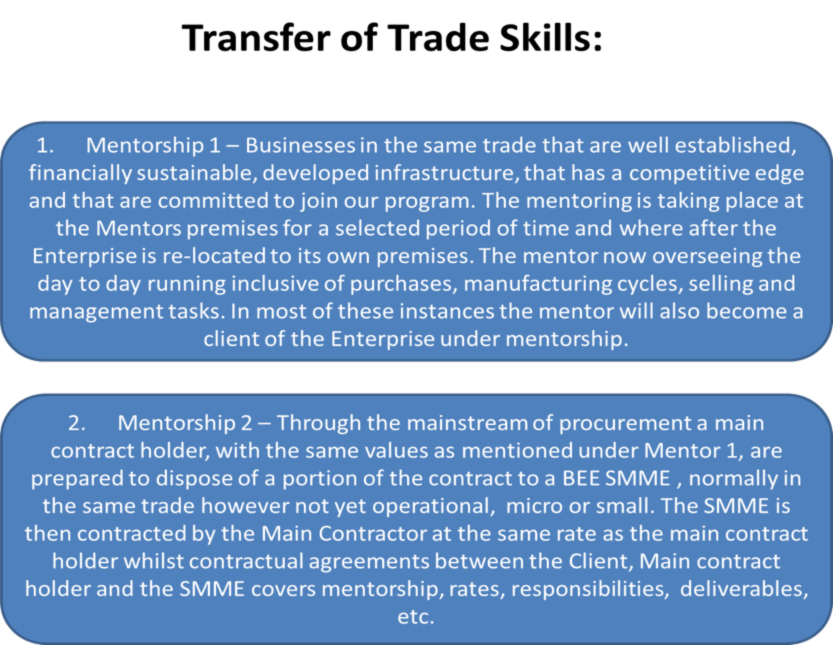 Business Management, Practical Mentorship & Support: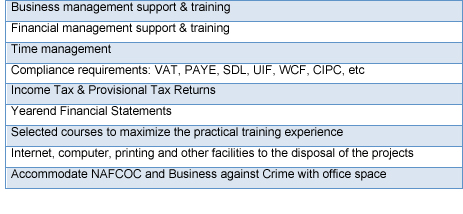 Module 2 - Process Flow Table per subject: